---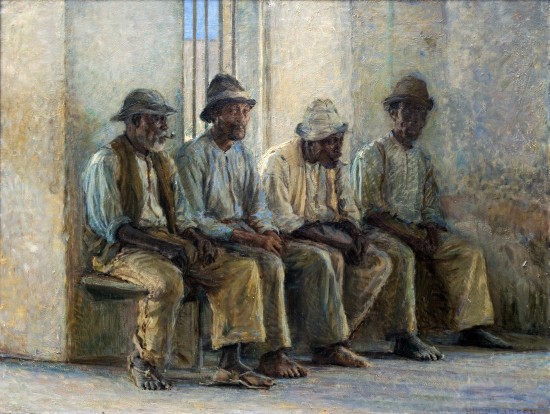 Hugo Larsen: A Corner of the Rumshop, marked St. Croix 1905. Oil on canvas, 83 x 110.5 cm.
Owner: Knuthenborg. Photo: Finn Brasen.
"The painting is tightly constructed. The four men represent an inward-directed diagonal, marked by the bony knees. The men are surrounded by a simple color poise that allows them to stand out with their darker, more color-saturated hues in complexion and clothing.
The floor and walls are painted in the same hues, aside from the tiny segment of blue sky that you see faintly behind the bars of the window.
The painting style is almost pointillist, in that the brush strokes, especially on the rear wall, appear like dabs of color that seen at a distance create a unified impression, namely the shadowy areas in the otherwise sunlit rum shop. [..]
Altogether, the men constitute a repetitive whole, in an almost frieze-like manner. [..]"
[Curator Helle Brendstrup, excerpt from a painting analysis at the Øregaard exhibition. Translation: Nina York]
---
The layout of this page has been made with an external Cascading Style Sheet (CSS). If you see this text, your browser most likely does not support CSS. I have done what is within my power to make all contents visible in all browsers, but the layout will no longer be visible in browsers that do not support CSS.