---
---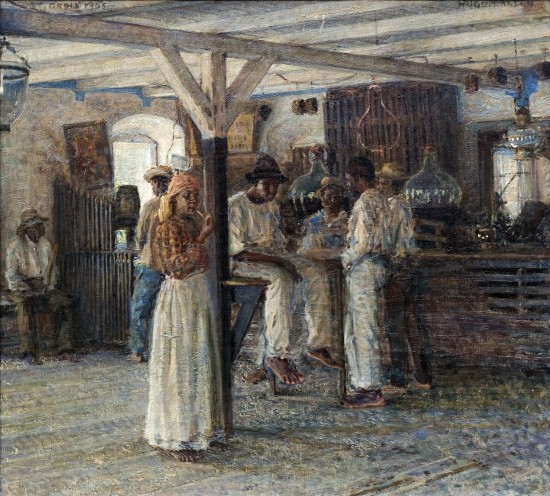 Hugo Larsen: From a Rumshop, marked St. Croix 1905. Oil on canvas, 64 x 70 cm.
Owner: Knuthenborg. Photo: Finn Brasen.
"[..] Hugo Larsen was clearly fascinated with the milieus of the local West Indian population. With an esthetic approach he had an eye for the picturesque scenarios in daily life. He does not take a stand regarding the circumstances of the blacks, nor does he ask questions about racial inequities. [..]
In contrast to the almost picture postcard paintings and almost invisible brush strokes of the artists of the Golden Age, Hugo Larsen 50 years later was strongly influenced by the French Impressionists. He was intensely occupied with the colors in the light and shadow areas. With visible brush strokes he makes the painting vibrate with a bright and warm mood."
[Curator Helle Brendstrup, painting analysis at the Øregaard exhibition. Translation: Nina York]
---
The layout of this page has been made with an external Cascading Style Sheet (CSS). If you see this text, your browser most likely does not support CSS. I have done what is within my power to make all contents visible in all browsers, but the layout will no longer be visible in browsers that do not support CSS.