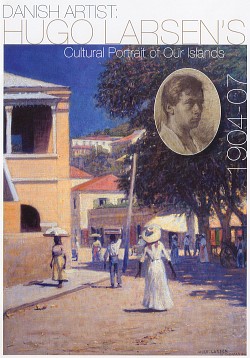 Hugo Larsen's paintings and drawings of life in the Danish West Indies at the beginning of the 20th century are unique, not only from an artistic viewpoint, but also in a cultural context. He was the only artist of importance who with sensitivity and respect depicted the local population and its everyday activities in his art. For that reason we possess through his images a singular documentation of Danish colonial history as well as the cultural heritage of the present day U.S. Virgin Islands.
One may wonder why Hugo Larsen's art has not been valued in the former Danish West Indies. The explanation is probably as simple as it is sad in a cultural sense: Many have wished to forget a period which few have reasons to be proud of.
But the Danish colonial time is part of the history and heritage. This is also true for the last and probably sad time before the Transfer.
Thus, St. Croix Friends of Denmark - with Nina York as the initiator and mainstay - have taken the initiative to produce a documentary about Hugo Larsen and the cultural portrait that he made of the then Danish West Indian Islands.
The film describes daily life in the Danish West Indies with the point of origin in Hugo Larsen's paintings and drawings and the story they tell. In addition there are a number of interviews with the Danish historian Per Nielsen, the local historians William Cissel, George Tyson and Myron Jackson, the novellist Edgar Lake, the artist Leo Carty and the art collector Eleanor Gibney.
The documentary will be presented on local TV and will be used by the USVI University and high schools in their education in art and history.
The film has been produced by Erik Miles, Studio Five (www.studio5films.com), a well-known local film maker with Danish roots. Script writer and story teller is the well-known novellist and poet Edgar Lake.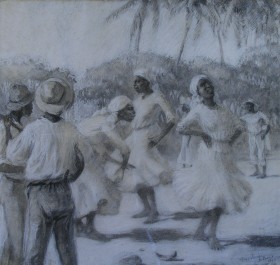 Hugo Larsen: The Joy of Dancing, St. Croix 1906
Nina York came up with the idea and is the mainstay of this project. Nina York is a Dane who has lived for 30 years on St. Croix and is a very active player in local cultural activities. She was for many years the editor of St. Croix This Week and had written and published books and translated those of others about the life and history of the islands. She also founded the Virgin Islands Children's Seal Fund, Inc., a Virgin Islands non-profit organization that from 1987 to 1999 published Christmas Seals highlighting the natural and cultural resources of the Virgin Islands, with sales of the seals contributing to education and training projects for Virgin Islands children and youth. Over $100,000 have been donated to youth projects from this source. Recently, Nina York has been the mainstay in translation of the book about Hugo Larsen into English and in marketing of the book in the islands. If you want to know more about Nina York and her contribution, you might read her presentation at the Virgin Islands Humanities Council conference in 2005 entitled "Virgin Islanders: Who Are We?": www.vihumanities.org/WTPMARCHinsertflyerfinal%20-%20htm.htm#Nina%20York.
A project of this dimension does not become reality without substantial support, be it moral, practical and in particular financial. So it is a particular pleasure to announce that the U.S. Virgin Islands Humanities Council (www.vihumanities.org) in July 2006 awarded this project $10,000 with an option to match other contributions up to a total of $20,000. This was followed up in 2007 by an award of $30,000 from U.S. Virgin Islands Department of Education. In addition, the private Danish fund "Grosserer Holger Petersens Legat til fremme af Skandinaviske Interesser" is supporting the project.
As of June 2008 you can purchase the film at the price of 20 USD at:
St. Croix Friends of Denmark
P. O. Box 682
Christiansted, St. Croix
VI 00821
Please mark your order "Hugo Larsen Video"
---
See also:
St. Croix Source on the presentation of the video 31 May 2008: www.onepaper.com/stcroixvi/?v=d&i=&s=Community:Calendar&p=1212898237:1210910400.
See the documentary online: www.vimeo.com/5241568.
Nina York's article in St. Croix This Week, August 2009: www.stcroixthisweek.com/featured-articles/st-croix-artistically-rediscovered-one-hundred-years-ago.html.
Virgin Islands Daily News published an article on the documentary project 18 Sep 2006. See www.virginislandsdailynews.com/index.pl/article_home?id=17596928.
Overview of articles about Hugo Larsen
Biography of Hugo Larsen
Detailed biography of his years in the Danish West Indies
The Virtual Gallery:
Hugo Larsen in the Danish West Indies
Hugo Larsen's West Indian drawings
Portraits by Hugo Larsen
Hugo Larsen's muses
Family and Self Portraits
Other Works by Hugo Larsen
Sketches and drawings by Hugo Larsen