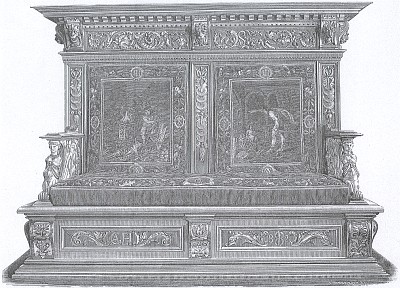 Couch in the style of renaissance, 1882
My great grandmother Clara Gamél's cousin Augustin Gamél (1839-1904) was a wealthy wholesale dealer in coffee in Copenhagen in the last part of the 1800's.
Gamél owned a number of buildings in the centre of Copenhagen. When one of these was demolested in 1881 in order to give room for a new building, a room from the period of renaissance was uncovered. Reinhold Mejborg (an archaeologist specialising in buildings) examined the room and proposed to Gamél the construction of a similar room in his apartment. Gamél accepted and hired the finest of architects, cabinet-makers, carpenters, painters etc. to construct and decorate the room. To complete the picture, an extraordinary set of furniture was made in a similar way, complementing the room and loyal to the style.
The furniture consisted of a couch (see the illustration), a table and two chairs. Due to the unusual care that had been taken while planning and making this set of furniture, an article about it appeared in the Danish periodical for applied art in 1887.
One of Denmark's leading researchers in furniture art is currently writing a book describing Danish furniture art in the period 1840-1920. For this book, the researcher is looking for good illustrations of typical and high quality furniture from this period.
Any information about this set of furniture will be appreciated. Does it still exist? Perhaps only in part? Who owns it now? Are there good photos of the furniture?
Please contact me if you think you know anything about this furniture. You'll find my contact information in the lower right corner of this page. You can also visit my contact page for more information about me.
---
Augustin Cyrille Wilhelm Victor Gamél (1839-1904) was the son of merchant in Copenhagen Antoine Cyrille Frederik Gamél (1809-79) and his wife Maria Dijmphna Ververs (-1876). He was married 1876 to Emma Johanne Emilie Hellerung (1852-1924). The couple had 3 children: Marie Dijmphna Johanne Emma Gamél (born 1877), Antoine Cyrille Johannes Gamél (born 1879) and Marguerita Isabella Gamél (born 1880).