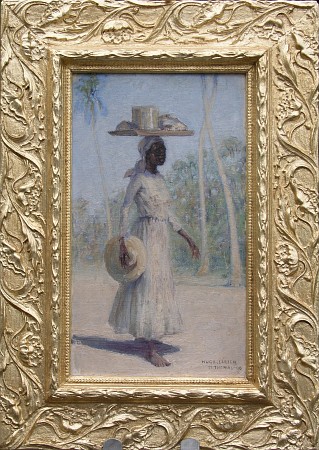 Hugo Larsen: Travelling Rachel, St. Thomas 1906
Hugo Larsen's West Indian paintings and drawings are now more than 100 years old and the motives tell us about a lost time which is now history. But in the course of one hundred years, the physical paintings and drawings experience their own story which can also be interesting. This is an example.
The oil is characteristic of the artist's West Indian paintings: Impressionistic, colour saturated, bright shades, empathy with the portrayed. We see a young West Indian woman with a proud carriage and the characteristic long arms and hands which we also today find in the islands. Just as characteristic, she wears the burden on her head, probably contributing to her beautiful carriage. At first sight we do not necessarily see a particular person, more likely a characteristic type. And the initial investigations do not point in the direction that the painting was made to order as it was sold to a Reimund Baumann who was not living on St. Thomas in 1906 when the painting was made.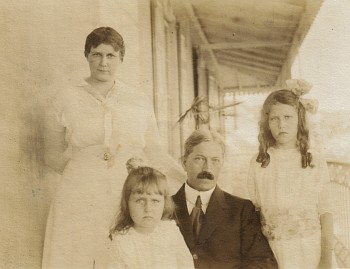 Reimund Baumann with his wife Margaret Ingeborg née Bache and the daughters Rigmor and Vilma, appr. 1919, USVI.
Reimund Baumann (1874-1958) was the son of a ship captain in the small city of Korsør in Denmark. The family probably has its origin in a German ennobled family from the Medieval. The Danish branch immigrated as military officers and mixed in due time with the rest of the population. Some continued in the military, others became clergy and yet others became fishermen and ship captains like Reimund's father. Little could the family know that Reimund had completely different ideas and was to have an international diplomatic career.
It started when Reimund received his master degree as a lawyer from Copenhagen University in 1899. Next year, he was sent to the Danish West Indies to become a chief clerk in the governor's office. In 1904 - the same year Hugo Larsen arrived in St. Thomas - Baumann was appointed judge and police-master in Christiansted on St. Croix. It is likely that Baumann and Larsen have met in St. Thomas in 1904, but it is beyond doubt that they have been together numerous times when Hugo Larsen visited St. Croix for a year or so in 1905-06. When the government secretary Lars Christian Helweg-Larsen was appointed governor in 1912, Baumann assumed the position of government secretary which he held until the transfer in 1917. But he stayed in the islands until 1920, now in the position of consul-general and special state commissioner.
When the job was completed, Baumann left US Virgin Islands on a ship bound for Denmark on 20 Apr 1920. A local newspaper greeted him farewell with these words:
"By his urbanity of disposition and general courtesy, Mr Baumann made many friends among all classes; while the general respect in which he was held by one and all, was heightened by the ready willingness he always displayed to assist those that needed help or advice."
Also Baumann's wife is accompanied with respect on their departure:
"On his journey home he is accompanied by Mrs. Bache, who is so very well-known amongst all classes of the community for her great and charitable work, especially amongst the poor."
On this trip, the painting made her maiden voyage across the Atlantic ocean, but not the last. Already the next year, another assignment called for Baumann's attention, this time as consul-general in Chicago, a position that he held until he was pensioned in 1947. After that, Reimund and Margaret Baumann returned to Denmark to settle in Copenhagen, while their children Rigmor, Vilma and Harald stayed in U.S.A. When Reimund Baumann died in 1958, the youngest daughter Vilma inherited the painting which now made yet another voyage across the Atlantic.
Vilma Baumann married at an advanced age an American, Walter Stanley. The childless couple settled in El Paso in the south-western corner of Texas at the border to Mexico. In the 1970s, a family with five children moved in next door. One can imagine that this may have given birth to a few quarrels and clashes, but in due time Vilma makes close friends with the new neighbour's daughter, now Rosemary Martinez, who at times nurses and takes care of Vilma when she gets older. At a point in time, Vilma presents Rosemary with the painting, which has been hanging in Rosemary's bed room until recently. When Vilma dies in 2003 without any family, Rosemary also has to take care of Vilma's family photos, letters etc.
In a way, there is a cultural string between the portrayed young woman on one hand and Rosemary and her husband Joseph on the other. The population of the former Danish West Indies are originally inhabitants of Africa, captured and torn out of their culture, enslaved and transported to the Caribbean on Danish slave ships to work in bondage in the sugar fields. Both Rosemary and her Joseph are of Native American heritage, thereby belonging to a culture which has systematically been suppressed by the white Americans in power.
Rosemary names the portrayed woman Rachel. With all her travel activity it seems fair to name her Travelling Rachel.
In the Summer of 2007, Joseph gets tired of Rosemary always asking "I wonder who Hugo Larsen is". He looks up this web site and shows it to Rosemary for her to learn about Hugo Larsen. Rosemary then contacts me to tell about her painting, initially without any extensive description. When she a couple of days later sends me a photo, I get a veritable shock, in the positive sense that is. So beautiful, so characteristic and yet completely unknown!
In my enthusiasm I could not resist telling Rosemary that my daughter was going to be married a month later and that I would really love to present her with this painting as a wedding gift. It was just a remark I dropped, a dream that was not discussed further.
During the following week, Rosemary, I and my friend Werner Brandstrup Andreasen were fully occupied establishing the origin and heritage of Vilma Baumann Stanley. An exercise which was quite successful, although we have not yet found living relatives really close to Vilma. It would be nice if we could find relatives with a genuine interest in taking care of Vilma's papers, letters and family photos.
In the middle of this process, Rosemary fires a 'bomb-shell': She has been touched by my brief remark about the wedding gift. She feels that the painting belongs to the family and she tells me that she was her father's girl and that he would have done the same for her. In short, Rosemary offers me to purchase the painting, which I of course readily accept. And then Travelling Rachel leaves on her fifth journey across the Atlantic.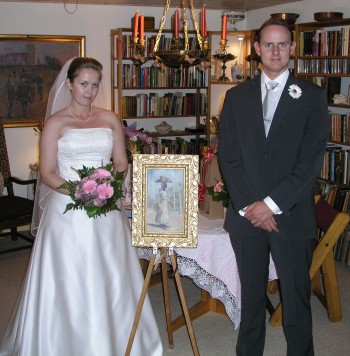 From Sanja's and Michael's wedding 25 Aug 2007.
I am by no means superspicious. But there have been quite a few coincidences in this case. I already mentioned the cultural tie between Travelling Rachel and Rosemary & Joseph Martinez. When we started to research Vilma Baumann's family, a relative turned up who is also a relative of mine. His wife is also a family member of mine, although in a completely different branch. She is a teacher at the high school from which I graduated 40 years ago. In addition, her previous partner is a member of my wife's family. The most recent coincidence came when I tracked the package on its way. The package had left U.S.A. bound for Denmark from the airport of Chicago, the city where Reimund Baumann had been consul-general for 26 years. Each and every coincidence has its own completely logical explanation, but there are quite a number of them, aren't there?
And while Travelling Rachel was enroute from Chicago to Copenhagen, Rosemary fired yet another 'bomb-shell': Rachel was not a name that Rosemary had invented, but a real person, Rachel Proctor, who had been the nanny of the family Baumann in the Danish West Indies. Rachel Proctor accompanied the family back to Denmark and later on to Chicago where she stayed with the Baumann family for many decades. It may not be a sensation to know the portrayed on Hugo Larsen's paintings, but this is the first time we learn who is portrayed in one of his empathetic portraits of the people of colour in the Danish West Indies.
It goes without saying that Sanja and her Michael were taken by surprise and happy receiving this painting as a wedding gift. We have of course told them that they are most welcome to deposit their painting with us, should they become bored with it.
Now Travelling Rachel is hanging on the wall at Sanja's and Michael's place. And she is hanging well. She is an elderly lady now and is hardly bound for another travel across the ocean. But you never know. Perhaps there will be an essential Hugo Larsen exhibition in the US Virgin Islands for her to participate in. You never know.
A warm thanks to Rosemary Martinez - particularly for the painting - but also for her great help in researching Travelling Rachel's history. Thanks also to my good friend Werner Brandstrup Andreasen for his invaluable help in tracing the history of the Baumann family.
So much for the provenance of the painting. But what about the history of the person Rachel Proctor? Where did she come from, how did she end in the Danish West Indies, does she have family still living in the Islands? That is the target of ongoing investigations. Read more about Rachel Proctor.
---
See also:
A larger reproduction of the painting in Hugo Larsen's West Indian gallery.
The history of Rachel Proctor.