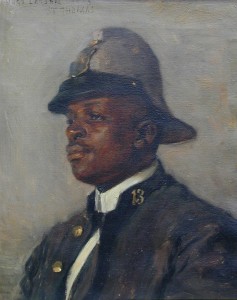 Hugo Larsen: West Indian Police Officer
The exhibition "Transfer" (in Danish "Overdragelse") was shown in Overgaden - Danish Institute of Contemporary Art in Copenhagen from 30 Aug 2008 until 26 Oct 2008. The exhibition was curated by Jacob Fabricius, Copenhagen, and La Vaughn Belle, St. Croix. Using artistic means, the exhibition focused on the relationship between Denmark and the former Danish West Indies (now U.S. Virgin Islands) in an attempt to promote the understanding of the common history and culture.
The exhibition primarily displayed works by contemporary Danish and U.S. Virgin Islands artists, but also presented some twenty works by Hugo Larsen from the Danish West Indies' last years as a Danish colony. Some of these works were previously displayed on Øregaard Museum's separate exhibition in 2006, but most of the works have not been displayed in public since the beginning of the 1900's and some have never been exhibited before now.
Hugo Larsen died in 1950, but he would have been pleased to see his art being placed in a modern context, building a cultural bridge between the Danish West Indies as he experienced it a century ago on one hand and the modern U.S. Islands and Denmark on the other.
The other participating artists were A Kassen (DK), La Vaughn Belle (USVI), Nanna Debois Buhl (DK), Janet Cook-Rutnik (USVI), Gæoudjiparl Van Den Dobbeltsteen (DK), Joachim Koester (DK), Edgar O. Lake (USVI), Monica Marin (USVI) and Sofie Thorsen (DK).
Title: "Overdragelse"
Venue: "Overgaden - Danish Institute of Contemporary Art", Overgaden Neden Vandet 17, DK-1414 Copenhagen K, Denmark. www.overgaden.org
Time: 30 Aug 2008 - 26 Oct 2008.
---
See also:
Nanna Debois Buhl is one of the young and promising artists who exhibited. See a preview of how she let her works enter into a dialogue with Hugo Larsen: www.ducts.org/content/eyewitness-accounts.
---
Pictures from the exhibition:
Below is a series of thumbnails of photos from the exhibition. Click on a thumbnail to see a larger reproduction or start a tour of the photos here.