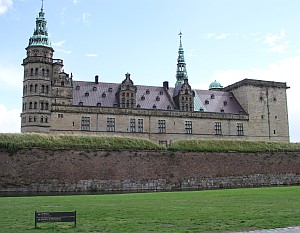 Kronborg
Danish Maritime Museum on the castle Kronborg in Elsinore displayed from 24 May until 17 Sep 2006 an unusual exhibition with Hugo Larsen's original paintings and drawings from the Danish West Indies (now US Virgin Islands). The exhibition was a continuation of the Øregaard Museum exhibition.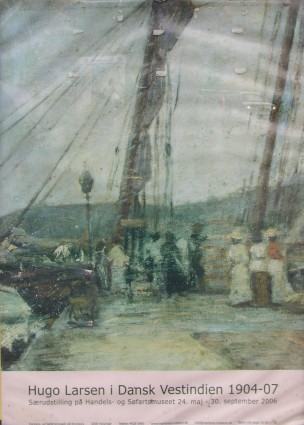 Proof impression of an exhibition poster
The exhibition was the most comprehensive presentation ever of Hugo Larsen's original works from the Danish West Indies. Close to 70 paintings and drawings were on display. Most of the exhibited works were from private collections and many had never been presented to the public before. Among others, a selection of the works in Hugo Larsen's Virtual Gallery were exhibited.
Hugo Larsen made his breakthrough in 1901 with a series of empathetic paintings from a colony of Danish prisoners working on cultivating the moors of Jutland. A few years later, he made his big trip to the Danish West Indies where he stayed for 3½ years, watching and portraying landscapes and everyday life in the exotic colony. Particularly his paintings and drawings of the local population's life and doings are remarkable, both in an artistic and in a cultural historic sense. It is remarkable how Hugo Larsen is allowed into the private sphere of the people of colour, making his realistic and empathetic sketches without interfering in their life. In addition, Hugo Larsen's paintings from the tropical colony are marked with a distinct impressionistic style which is particularly well suited for reproducing a lively impression of the shimmering light and the deep contrasts between light and shadow. The paintings and drawings from the West Indies mark the climax of Hugo Larsen's artistic career.
Nanny with Baby, St. Thomas 1905
Danish Maritime Museum
Photographer Kirsten A. Jappe
In Hugo Larsen's time, the interest in the Danish West Indies was very limited in mainland Denmark. His exotic paintings and drawings were more or less ignored and few were procured by public collections. Thus, most of his works have been unknown for many decades and will now be exhibited for the first time.
Danish Maritime Museum has a considerable collection of objects relating to Danish colonial history, including art from Danish West Indies. The museum itself owns three of Hugo Larsen's paintings, of which "Nanny with Baby" is the most well-known. Naturally, all of the museum's own Hugo Larsen works are on display.
A comprehensive, illustrated booklet and catalogue in English has been published. Read more and buy now.
---
Pictures from the exhibition:
Below is a series of thumbnails of photos from the exhibition. Click on a thumbnail to see a larger reproduction or start a tour of the photos here.
---
See also:
The homepage of the Maritime Museum (www.maritime-museum.dk).
Until 14 May 2006 the exhibition was displayed at Øregaard Museum which also produced the exhibition. Read more ..
TV spots from the Øregaard exhibition (in Danish):
TV2 Lorry (public service channel for Copenhagen) Friday 20 Jan 2006 (www.tv2lorry.dk/moduler/nyheder/showregvideo.asp?dato=20-01-2006&cID=1&vId=274657). The spot starts as no. 3 after some 1 minute and 15 seconds.
TV2 Fyn (public service channel for Fyn) Sunday 22 Jan 2006 (www.tv2fyn.dk/modules/tv2fyn/player.php?id=10184&dato=2006-01-22&tid=19%3A30&titel=&program=).
Øregaard Museum's homepage (in Danish) (www.oeregaardmuseum.dk)
A biography of Hugo Larsen
Hugo Larsen's Virtual Gallery