---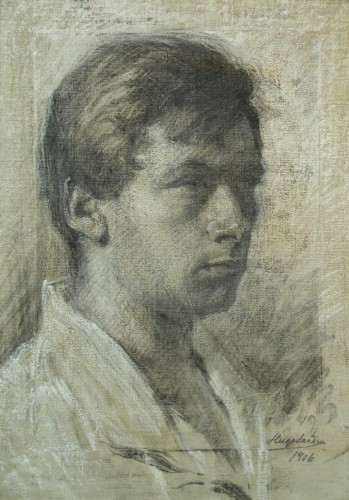 Hugo Larsen: Self Portrait 1906. Charcoal and chalk on paper, appr. 41 x 30 cm. Private collection.
"[..] Hugo Larsen depicts himself close up, with a firm and self-confident expression, not facing the viewer, but looking towards a distant point. He permits himself to be viewed and is conscious of his charm and personal magnetism. An exotic artist in a foreign land, a young man at the Zenith of his life.
It is interesting to note that he portrays himself in the same style that he uses for depicting several of the black workers, apparently wanting to bridge the gap between himself and the black population. [..]"
[Curator Helle Brendstrup in the book "Hugo Larsen in The Danish West Indies 1904-07"]
---
The layout of this page has been made with an external Cascading Style Sheet (CSS). If you see this text, your browser most likely does not support CSS. I have done what is within my power to make all contents visible in all browsers, but the layout will no longer be visible in browsers that do not support CSS.