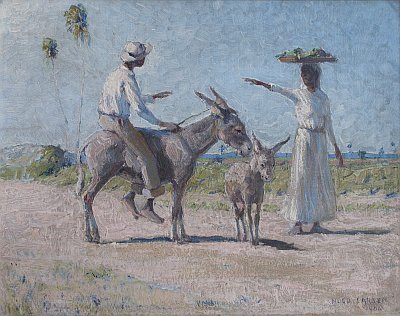 Hugo Larsen: Scenery with Donkeys, 1906
The painting was on display at El Museo del Barrio
Think of impressionists in the Danish West Indies, now US Virgin Islands, and you may be inclined to say Camille Pissarro. But you are wrong. Pissarro never painted in an impressionistic style while still in the Danish West Indies where he was born. The great impressionist of the Danish West Indies was Hugo Larsen and for the first time his art could be enjoyed in a public exhibition in the United States in 2012. Hugo Larsen was represented by three pieces of fine art in the New York based exhibition "Caribbean - Crossroads of the World".
Hugo Larsen spent 3½ years in the Caribbean from 1904 until 1907, painting and drawing his most talented works. He was a realist, painting what he saw. And what he saw was the beauty of the islands combined with scenes from the everyday life of a poor, but proud population. He portrayed people of colour with empathy and respect and sometimes with a touch of humour. Seen as a whole, his West Indian works constitute a unique portrait of the islands a century ago.
Hugo Larsen participated in numerous exhibitions in Denmark in the beginning of the 20th century, but the interest in the West Indies had faded away when he returned and his work was never acknowledged as it deserved. In the last couple of decades, however, his work has experienced a renaissance, resulting in five exhibitions during the last seven years including "Caribbean - Crossroads of the World" in 2012.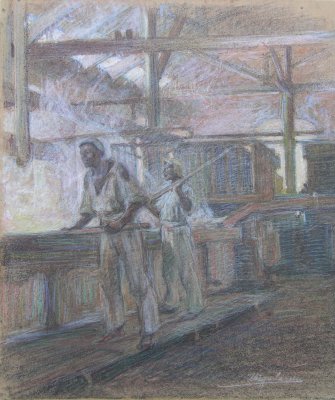 Hugo Larsen: Sugar Factory Workers
The pastel was on display at Studio Museum in Harlem
The exhibition presented more than 500 pieces of art from all over the Caribbean and gave a unique insight into the cultural history of the Rim through four centuries. It was arranged and curated by El Museo del Barrio on Manhattan in collaboration with Queens Museum of Art and Studio Museum of Harlem. The exhibition was well received by the critics, illustrated by this review in New York Times. A short quote from NYT: "In size, cultural scope and freshness of material, the three-museum exhibition "Caribbean: Crossroads of the World" is the big art event of the summer season in New York".
Hugo Larsen was represented by three pieces of art of which two are shown on this page. The third painting showing a lively scene at the Market Square of St. Thomas has never been presented in public before.
The exhibition was presented in the three museums as follows:
El Museo del Barrio, 12 Jun 2012 until 6 Jan 2013.
Queens Museum of Art, 17 Jun 2012 until 6 Jan 2013.
The Studio Museum in Harlem, 14 Jun until 21 Oct 2012.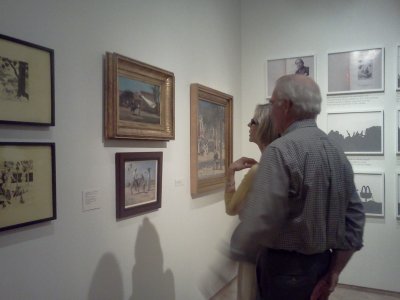 From the exhibition at El Museo del Barrio. Photo: Nanna Debois Buhl
If you visited El Museo del Barrio, you would find two of Hugo Larsen's paintings in a corner and if you looked to the right, you would see "Eyewitness Accounts" by the talented young Danish artist Nanna Debois Buhl, a series of black and white photos accompanied by texts, together constituting a "dialog" between the young artist and the old master Hugo Larsen. A thought-provoking piece of art, as illustrated by this review from 2008.
In case you visited the exhibition and saw the works by Hugo Larsen, I would be grateful if you would share your experience with me. In particular I would be happy to see more photos of his works in their context at the exhibition.
---
Links:
El Museo del Barrio: www.elmuseo.org
Queens Museum of Art: www.queensmuseum.org
The Studio Museum in Harlem: www.studiomuseum.org
A virtual gallery of Hugo Larsen's art, including his West Indian paintings and West Indian drawings.