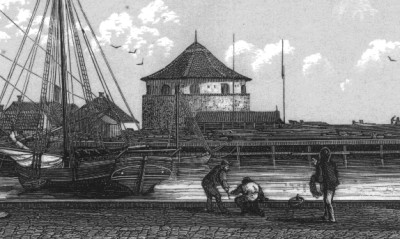 The Powder Tower, Frederikshavn
Today, Frederikshavn is a lively city far north in Jutland, the end station for the main railroad and motorway through Denmark with vivid traffic in its harbour and a major trade centre attacting customers not only from the city and its environment, but also from Norway and Sweden.
300 years ago, things were completely different. No railroad, no motorway, no traffic harbour, no trade and in fact no city. There was a small neglible fishing hamlet named Fladstrand, the name meaning the beach belonging to the village Flade some 5 kilometres uphill to the west.
But this modest place had one geographical advantage working for it. There was kind of a natural harbour to which naval ships could seek shelter for storms before going into the North Sea or crossing the Kattegat on their way to Norway.
As the place grew in importance, so did the need to defend it. and in the beginning of the 1700s, the Citadel Fladstrand was built around the present famous Powder Tower. In the beginning of the 1800s, the city got its present name Frederikshavn and a proper harbour which has since been of major importance to the city. And the family Brandstrup contributed both to the defence and to construction of the harbour.
As indicated, there were initially very few inhabitants and the defence must have drawn on troops from other parts of the country. Among these we find the constable Lars Larsen, named 'Brandstrup'. The name Lars Larsen means Lars, the son of Lars. Such patronimycs were the rule, but not very practical when villages grew and more people were named e.g. Lars Larsen. Hence the name'Brandstrup', indicating that our Lars Larsen initially came from a spot named Brandstrup. We do not know from which of the locations named Brandstrup he came, as we do not meet him in the sources until he dies 17 Apr 1740 at the estate of Knivholt to which most of the land in the present city belonged. At the funeral, the name Brandstrup was not mentioned, but it was used when documenting the administration of his estate.
This first Lars Larsen left a widow and a son Lars Larsen Jr. (1695-1766). In 1741 Lars Larsen Jr. married Else Pedersdatter and this couple had five children of which the oldest was of cause named Lars Larsen (1742-1789). The first name is now and then also spelled Laurs and Laust. Likewise the spelling Laursen of the patronymic is also seen.
With this Lars Larsen the Third, the family's own written sources start to help us. He was also named Lars Post. In a genealogy article (later published in my wife's and my book " Poul Kinafarers efterkommere - slægten Storm" - in Danish), Elisabeth Ingemann wrote that he owned a farm in Fladstrand and that parts of the land now occupied by the city Frederikshavn belonged to him. He had purchased it in 1783 from the estate owner and he was now a farmer in addition to his other job, taking care of the mail between Aalborg, Hjørring and Fladstrand, hence the name Lars Post.
Lars Post married to Sophie Kirstine Mathisdatter and the couple got six children between 1776 and 1786. Ufortunately the parents died early and the children were placed out and since scattered to the four winds. We know of descendants to four of these children. They were all baptized Larsen and Larsdatter, but at least three of the children since used Brandstrup as their family name.
Lauritz Brandstrup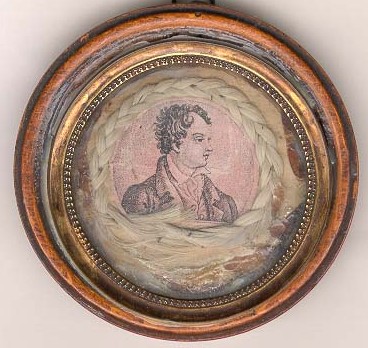 Lauritz Brandstrup (1776-1842). Photo: Kirsten Brandstrup
Lars Larsen the Fourth (later called Lauritz Brandstrup) was the oldest child. He was born in 1776 and was 12-13 years old when the parents passed away. he was placed out at Knivholt, and being intelligent he was sent to Copenhagen to study.
Lauritz Brandstrup had a rather chequered career and we still have only partial information about him. He was immatriculated at Copenhagen University in 1808, studying surgery. He became a surgeon in the army in 1809, stationed among other places in Odense, but returned to the university in 1814. When his leave from the army ended in 1817, he had not managed to pass him exam due to economical problems and he returned to the army. In 1818 he became insane and was dismissed with full pension. Three years later he had been cured and became a customs assistant in Assens on Funen. But in 1833 he became insane again and was hospitalized in Odense. These facts are documented in the archives of Copenhagen University.
In 1813 Lauritz Brandstrup married Danieline Bertheline Schmidt, but the year before their first son, Lauritz Christian Frederik Michael Brandstrup was born. This 'disorder' in the dates has given birth to a rumour in the family that Frederik was not the son of Lauritz Brandstrup, but was of noble heritage. The speculations may be based on the fact that count Christian Frederik Ahlefeldt as an officer was stationed in Odense in 1811. It was also said that Frederik Brandstrup looked very much like other descendants of the count. Frederik became a teacher and spent most of his career in the village nearby Christan Frederik Ahlefeldt's manor house Tranekær.
Lauritz Brandstrup died in 1842 and among his descendants are celebrities like the sculptor Ludvig Brandstrup, the architect Christian Brandstrup, the actor Ludvig Brandstrup and Alhed Warberg who married the famous painter Johannes Larsen.
Ane Brandstrup
Ane Larsdatter was the second among Lars Post's children. She was born in 1778 and was 10-11 years old when the parents passed away. In the sources we meet her again when she becomes engaged in 1796 to inn-keeper in Aalborg Christopher Lucht. They were married in 1797 and the church book of Our Lady's Church in Aalborg shows the first official use of the family name Brandstrup (though spelled Branstrup).
Ane and Christopher later moved to Randers where he settled down as a wine merchant. They got eight children of which unfortunately only two grew up. In 1814, Christopher died early and left Ane with four children of which one died shortly after. Ane wrote an ad in the local paper documenting her sorrow.
Tragedy or not, Ane took care of the family and already a year after she married second officer Christian Boldsen from Mellerup. And he was indeed not a bad marriage. Six years before he became a hero in the war with England. He was second officer on the trade ship "Helene Charlotte" when it was captured by the Swedes on its way between Skagen and Norway. Most of the crew was taken to the Swedish ship and Christian Boldsen with a few others were left on "Helene Charlotte" together with the prize crew. Although very few, Christian Boldsen and the remainder of the crew managed to overpower the prize crew and throw their weapons over board. Christian sailed the ship to the small harbour of Risør in Norway and for their deed he and his helpers received the ship and its cargo as prize. In addition he was later honoured with the Order of the Danish Flag. Ole Høeg, descendant of Ane and Christopher, later wrote the novel "Kaper" about his ancestor.
Three years after the marriage Ane and Christopher moved to Mellerup, a small ferry harbour, where they purchased a farm. Ane and Christopher got six children together. About these children and their many descendants, please refer to the book "Slægten Boldsen", Svend Søgaard Sørensen, Hjørring, 1980.
Peder Hansen
The third of Lars Post's children was Peder Larsen. He was born appr. 1780. We do not know where he was placed out after the death of the parents. But he must hav had an urge to travel. He ended up in Hartlepool, a coastal city in North Eastern England where he became a ship broker. Apparently the Engish had problems pronouncing the name Brandstrup, so he called himself Hansen which also became the family name of his descendants. He must have had a hard time in the years when Denmark and England were at war, but somehow he managed well and later moved his business to Newcastle upon Tyne. We also know from the family's sources that other parts of the family visited the Hansens in England and a son of Peder Hansen paid the Storm family in Assens (see later) a visit.
Peder Hansen married in 1810 to a young English woman, Agnes Endacott Wotton, and they got three children of which the oldest and youngest sons also became ship brokers. Today we know extremely little about this family and its descendants.
Matthias Brandstrup
Mathis Larsen was number four of Lars Post's six children. He was born in 1782 and was only six years old when the parents passed away. He was placed out in Vrangbæk between Sæby and Frederikshavn. After his confirmation he worked in different places. During the wars with England he served in Copenhagen where he most likely met his future wife, the Norwegian Anne Marie Berg.
The couple settled on a farm in Frederikshavn, actually in the centre of the present city. In addition he supervised the construction of the harbour in Frederikshavn. it is most likely that he has also made some sort of trade as he in 1825 was granted citizenship as merchant in Frederikshavn under the name Matthias Brandstrup.
In 1832 he supervised the harbour construction in Sæby. He travelled the 10 kilometres by foot and on one of his trips he must have had an indisposition and sat down. Later on, people passing by found him dead by the road.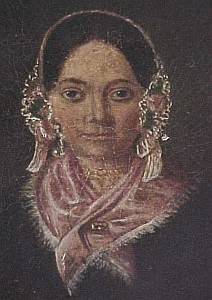 Sophie Marie Brandstrup (1816-73)
Matthias and Anne Marie Brandstrup only got three children, but the two oldest got so many descendants that Matthias is the progenitor of the majority of the present family Brandstrup.
The oldest among Matthias' children was Sophie Marie Brandstrup (1816-73). She married Hans Storm, second officer and later captain on smaller trade ships. He was great-grandchild of the rich merchant Poul Jacobsen who received his fame and fortune from three trips to China in the years 1733-45. Hans Storm had also been to China as a sailor, but received neither fame nor a fortune from his trip. But he left his diary from this trip and the diary still exists. This couple had five children and their history and descendants are described in a small book 'Poul Kinafarers efterkommere - Slægten Storm', Tove and Jan Tuxen, 1994.
Number two among Matthias' children was Lars Christian Brandstrup (1818-71), who helped his mother on the farm when Matthias died. Later he took over the farm and had several other farms until he purchased Frederikshavn Mill, which has later been named Brandtrup's Mill. He married the local girl Ane Marie Simonsen and this couple had 16 children of which the last one was born the day his father was buried. He was of course named after his father. One of the sons took over the mill and later added a bakery shop which is still in existence. A number of Lars Christian's sons emigrated to Norway.
The youngest among Matthias Brandstrups children was Oline Marie Brandstrup. After their mother's dead, she took care of Lars Christian's house until he married in 1846. After that she moved to Assens and served as house keeper in several jobs. She later purchased a small house in Aasum close to Odense. Her life is well described in the article 'Oline Marie Brandstrup - Et Livsbillede fra gamle Dage', Kristian Lohmann, 1918.
Christian Larsen
Christian Larsen was born appr. 1784 and was only about four years when Lars Post and his wife died. The only information we have about him is that he was a sailor and was captured in the Mediterranean Sea by pirates. He died most likely in Algeria.
Else Larsdatter
Else was only about two years when her parents passed away. Unfortunately, we do not know her history.