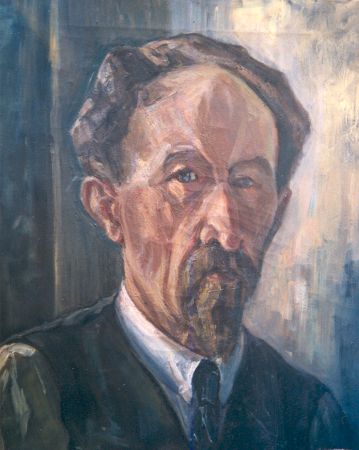 Lauritz Howe: Self portrait
Lauritz Howe was a productive and popular painter of his time. He was born in Denmark, but received his education in Germany. He worked almost exclusively in Denmark, travelling throughout the country making and selling his art. He had a very broad range of motives, from the sentimental "Roaring Red Deer at the Forest Lake" to perfectionistic marines, correct down to the most subtle details, and from beautiful still-lifes to major decoration works inside Christiansborg (the castle in Copenhagen housing the Danish Parliament). His paintings have a distinct nostalgic touch. Note e.g. that you never see a car on his paintings. One of his specialties was painting sceneries from Copenhagen, particularly of the city architecture, but always with a bias towards romantic and idyllic motives.
Lauritz Howe did not belong to any particular wing or movement among Danish artists. In fact, you may call him old fashioned in the sense that he did not follow any of the many changing "-isms" of his time. His art is naturalistic, charming and descriptive, sometimes with an impressionistic touch. He participated only in a few public exhibitions, among them The Artists' Fall Exhibition at Charlottenborg in Copenhagen in 1905 and a separate exhibition in 1920 at which occasion a Danish newspaper wrote (in translation):
"In Howe's approximately 35 landscapes you find a somewhat naive, but credible and empathetic description of the motives as they are seen by him, i.e. as 90% of the Danish population see them. There are beautiful small works amidst, quite cosy small pictures and Howe will undoubtedly with his honest and easily comprehensible art bring much joy to many thousand homes"
If you disregard the arrogant tone of the journalist - quite common for the time - this is a rather precise characteristic of Howe's art. Contrary to many of his colleagues he was actually able to sell his art and to give his family a decent living. He did this without ever being famous. In fact the editors of the Danish encyclopædia of artists "Weilbach" never found him worthy of an article. A less well-known dictionary of artists, "Dansk Billedkunst" by H. Slyngbom, 1947, mentions him briefly: "Landscapes and paintings with playing children". Two of his paintings are owned by museums, one by Copenhagen City Museum, one by Øregaard Museum.
Although a popular and productive artist of his time, Howe is not very well known. I think he deserves better, for which reason I have started a small virtual gallery of his art on these pages. I hope you will enjoy the gallery. If you have any knowledge about Howe and his art, I would be delighted to be contacted.
---
Genealogical data:
Lauritz Georg Christian Howe was born 5 May 1869 in Odense as a son of Joachim Ludvig Christian Howe and Anna Marie née Larsen. Howe died in August 1945 in Copenhagen. He married in 1903 to Sofie Ingemann (1876-1949), daughter of teacher Frederik Vilhelm Ingemann and Anna Elisabeth née Storm. 3 children.
---
See also: