Wanted!
If you own - or just know of - one or more of Hugo Larsen's paintings and drawings, I would be most grateful to hear from you.
If you can send me good photographs, that would be even better.
Good ideas and critical comments on the gallery are welcome too.
Read more ...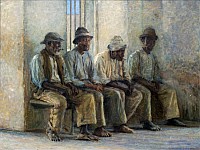 Photo: Finn Brasen
Hugo Larsen Booklet for Sale
A booklet containing numerous essential articles about Hugo Larsen has just been published in connection with the Hugo Larsen exhibition at Øregaard Museum in Copenhagen. The book is written by the domain experts and is thoroughly illustrated with color reproductions of Hugo Larsen paintings.
"Hugo Larsen in the Danish West Indies 1904-07", 80 pages, semi-hard cover.
Publisher: Øregaard Museum, Denmark.
Price: Appr. 27 USD plus shipment.
Hugo Larsen was a brilliant painter. He deserves much more fame than he was given. But even though he was almost forgotten, his works are still here and they testify about an artist with unusual qualities, equalling the best and most famous of his contemporaries. To learn more about Hugo Larsen, take a look at his biography.
But extremely few of his works are in museums which gave me the idea of creating a 'virtual gallery' for him on these pages. In time, this is going to be an overview of as many as possible of his paintings and drawings, in particular those from the Danish West Indies, now the U.S. Virgin Islands.
This being a purely non-commercial activity, and I being an amateur in the field, support is needed, and I hope you will help if you can. First of all, I would like to know about all works by Hugo Larsen wherever they may be. Second, if you have ideas and advice about the gallery, I would be most grateful. You may want to take a look at some of the specific inquiries I have.
For the time being, the gallery is divided in the following sections:
If you have taken an interest in Hugo Larsen's works through these pages, please be back soon. What you see now is only the beginning.
I owe the artist Hans Berg my gratitude for his support to me in the initial phases of building this gallery. My special thanks to the late Ole Bidstrup for his constant encouragement and many valuable hints. Also I want to thank the people who have helped me by allowing me to take photos or sending photos of their Hugo Larsen works and allowed me to present them on these pages.
---
See also:
Gallery:
Hugo Larsen in the Danish West Indies
Hugo Larsen's West Indian drawings
Portraits by Hugo Larsen
Hugo Larsen's muses
Family and Self Portraits
Other works by Hugo Larsen
Sketches and drawings by Hugo Larsen