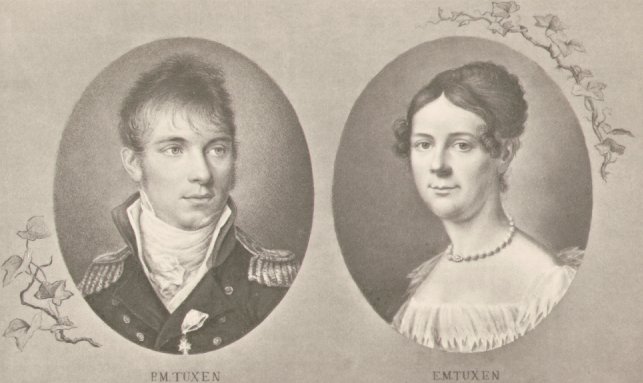 Peder Mandrup Tuxen and Elisabeth Marie Simonsen
Peder Mandrup Tuxen was son of a naval officer, lieutenant-commander Elias Tuxen of the old clerical family Tuxen, and Birgitte Regine Thielo. Glergy and naval officers were definitely reputed citizens, but not particularly well paid. So Peder was enrolled as a naval cadet at the age of six. He had a hard time both at the cadet school and at the naval academy, being constantly teased to the degree that he later became a plague to others, a bad habit hard for him to drop later in his life. But somehow he managed better and better during his education and when graduating in 1799-1800, he was the second best in his team which included the later hero Peter Willemoes, and he was awarded with a medal at the graduation.
He was appointed second lieutenant in August 1800 and participated as adjutant in the battle against the British navy outside Copenhagen 2 Apr 1801. But his main career was not to be in the line services. During the winter 1801-02 he was given the opportunity to study for one of four new scientific positions in the navy, a 4-year education to be succeeded by a 3-year trip abroad. According to the plan he took his exam in 1805 and started his trip abroad in 1807, but had to hurry back to active service the same year when the Englishmen attacked Denmark once more. He became chief of a cannon boat squadron and in 1809 he had a successful fight with a British frigate, for which he was awarded with the Danish order "Ridder af Dannebrog" (knight of the Danish flag).
Tuxen was a friend of the Norwegian priest Søren Georg Abel, father of the famous matematician Niels Henrik Abel. The priest was married to Anna Maria Simonsen, a daughter of the large merchant Niels Henrik Saxil Simonsen in Østerrisør, Norway. During a visit to the rectory Tuxen met Anna Maria's younger sister Elisabeth and the two fell in love. But the old merchant did not like the prospect of getting a poor naval officer as son-in-law. The young couple had to write secret letters to each other, a correspondence of some 200 letters before they could finally marry in 1810. A year later Tuxen was replaced as chief of the cannon boat squadron and could continue his studies. The same year he was appointed inspection officer at the naval shipyard in Copenhagen and they could move into an apartment by the yard in which they lived for the next 28 years.
Unfortunately, there was neither economy nor the political climate to maintain the scientific positions in the navy. Thus Tuxen never completed his studies. From 1821 he taught mechanics and hydraulics at the yard. From 1822 until 1834 he managed the arms and uniforms of the navy and from 1829 he co-administered the estate of Frederiksværk. He obtained the rank of captain.
Beside his official duties he had quite a few other activities. He was among the initiators to several public baths in Copenhagen and was a member of the committee which arranged the first Danish industry exhibiton in 1834.
In 1838 Tuxen died suddenly after a cerebral haemorrhage.
It is reasonable to consider Peder Mandrup Tuxen a collective center of the family. He and Elisabeth got 13 children and 61 grand children. In 1985, Henning Bernhoft published a book containing information about appr. 800 of their descendants. So Tuxen is without doubt the dominant progenitor of his generation in the family, whether the descendants bear the name or not. Several of his sons became prominent naval officers, one grandson became "Europe's royal Painter" and another became head of the Danish army.
Peder Mandrup Tuxen and Elisabeth Marie Simonsen's 13 children:
Nicolai Elias Tuxen (1810-91). Managing director of the naval shipyard in Copenhagen, member of the Danish senate.
Birgitte Regine Tuxen (1812-78).
Magdalene Andrea Tuxen (1813-81).
Georg Emil Tuxen (1814-81). Commander in the Danish navy, director of navigation.
Halvordine Elise Tuxen (1816-93).
Mandrup Peder Tuxen (1818-91). Vicar in Tandslet, Als, later in Esbønderup.
Johan Cornelius Tuxen (1820-83). Commander in the Danish Navy, author, member of the Danish parliament.
Ludvig Christian Tuxen (1822-87). Jurist, permament under-secretary of the Danish marine cabinet.
Frederik Vilhelm Tuxen (1823-31).
Jens Kraft Tuxen (1826-27).
Carl Adolph Tuxen (1828-73). Merchant in Australia.
Anthonius Oluf Tuxen (1829-1909). Head of the navigation school in Svendborg.
Louise Amalie Tuxen (1831-1917).
Sources:
Nicolai Elias Tuxen: "Peder Mandrup Tuxen og hans Efterkommere 1783-1838", Copenhagen 1883.
Henning Bernhoft: "Kommandørkaptajn Peder Mandrup Tuxen 1783-1838 og hans Efterkommere", Hørsholm 1985.