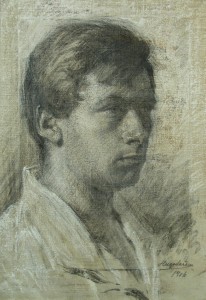 Hugo Larsen: Self portrait, 1906
I tend to get frustrated when people close to me do not get the honour which they deserve. I am equally irritated when people receive - or ask for - honour based on others' achievements. But Hugo Larsen most certainly belongs to the first category. He was a brilliant artist who at his career's climax happened to be in the wrong place. He remained virtually unknown throughout his life.
The "Project Hugo Larsen" therefore has a very simple objective: To give Hugo Larsen the place in the Danish art history which he deserved, but never got while alive. All activities in line with this objective are relevant to the project.
For me - as grand nephew of Hugo Larsen - it all started slowly half a century ago with a growing comprehension of the fact that the fine paintings and drawings on my parents' walls were made by an artist who was unknown to the public.
The occasion that really started the project came in 2001. At that time I had been a genealogist for a number of years, studying my ancestors and from time to time digging deeper into particular and more exciting parts of the family history. I had also built a web site to publish the results. Suddenly, an email dropped into my mailbox, sent by the daughter of a German owner of a Hugo Larsen portrait of his grand mother. They knew who was portrayed, where and when. But now they would want to know more about the artist. At the time I was preparing a short biography of Hugo Larsen for the web site and due to this email, both the biography and most subsequent material have been published both in Danish and in English. In fact the same family has translated part of the homepage into German for me.
As easy as it is to coin the objective for the project, as hard it is to achieve it. What does one do, when the subject is virtually unknown, when he has no descendants, when there is little written material to build upon and no registration of his oevre?
I started using my genealogical skills, finding all the descendant branches of his parents (my great grand parents), calling and visiting them, listening to their stories, making photos of their paintings and drawings and so on.
Soon I had some basic material for the Virtual Gallery. And that was a turning point in the sense that I could now offer some value to visitors and at the same time attract other Hugo Larsen owners and lovers of his art.
My method of publication may be a bit untraditional. When I judge that others may benefit from some material, I publish it on the homepage. I do not wait until I am through with a subject. I use the dynamic nature of the Internet to add and improve the quality of text and pictures all the time. I hope you and other readers agree with the method. But there is also a more selfish purpose which is to establish contact with other lovers of Hugo Larsen's works. These contacts are valuable for me, partly to improve my knowledge about the artist, partly to spread the word to others.
Apart from complementing and improving the virtual gallery, I write articles about Hugo Larsen, both on the web site and in newspapers, relevant periodicals and museum catalogues. I also put photos of Hugo Larsen's works at the disposal of others who have a relevant purpose and want to honour Hugo Larsen. One of my main contributions has been in the preparatory work for Øregaard Museum's exhibition "Hugo Larsen in the Danish West Indies 1904-1907" shown during the spring of 2006. An exciting project - initiated by perhaps the most persistent supporter of my project - concerns the production of a documentary "Danish Artist Hugo Larsen's Cultural Portrait of Our Islands 1904-1907", describing the daily life in the then Danish West Indies as seen through Hugo Larsen's art. It goes without saying that I strongly support this project.
So far, I have not had any ambition about writing a book about Hugo Larsen. It may come in due time, but I am a bit hesitant. Partly due to the fact that I am closely tied to Hugo Larsen, thus perhaps a bit too biased. Partly because I do not have a sufficiently deep knowledge in art history.
A major point in this article is to tell you that if you have a project - or just an idea - which is in line with the objective of mine, I am all yours. My archives, knowledge, writing skills and network are at your disposal.
The present article is mostly about my own activities which was also the purpose. But what I have achieved - and what will be achieved - would not have been possible without the valuable contributions by numerous other people. I have met an overwhelming enthusiasm with owners, friends, researchers, museum curators, patrons, interpreters, a highly skilled conservator and a lot of other lovers of Hugo Larsen's art. Without you, no project and no results. Mentioning you all here would be impossible. Some of you are mentioned in relevant contexts elsewhere on this web site. I owe you all my deepest gratitude.